Positioned in the heart of downtown Mankato, Block 518 Residences are conveniently located and easily accessible off Riverfront Drive and the pedestrian friendly South Front Street. Space is available for lease. Please contact 507-388-4722 for more information.
Designed for Modern Living
Block 518 Residences are ideally located for work or play. They are within easy walking distance of everything you need including restaurants, coffee shops, groceries, public transportation, shopping and hotels. With new and exciting walkways, a main floor art gallery welcoming both tenants and visitors—these units offer the best in downtown living.
Interior Features
The interiors feature thoughtfully designed, contemporary layouts with modern kitchens. The energy efficient and state of the art HVAC offers comfort and savings at every turn. Spacious closets and large picture windows provide natural light and access to the exciting urban environment. Outdoor patios on the third and fourth floors offer city views. All units are internet and cable ready with handicap accessible units available.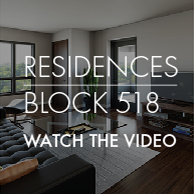 close video